Desirable Attire for All To A Funeral Service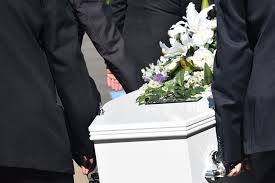 A funeral service is a very special time for people who are attending such occasion. A funeral is a respecting tradition and it is always better to go conservative on such occasions. There are certain reasons which need to be considered to have a good dress which suits the ethics of funeral service.
What is acceptable to wear to a funeral and how to choose it?
Though it is not mandatory to adhere to some specific dress code on a funeral occasion, wearing something that is a little more conservative is always better. After all, a funeral is a time when you will show respect and honor the life of the person who has passed away.
This will mean that you should try to avoid wearing bright colours or glittery fabrics or flashy prints. The choice of dress may be guided by the culture of the deceased or the location or by the climate. Try to avoid going to a funeral underdressed as you may find yourself awkward among other formally dressed people.
What is the best colour to wear to a funeral and why should you wear it?
In a formal and traditional type of funeral service, you are expected to wear black. Avoid wearing vibrant and bright colour which you may better save for wearing in an evening party or for going to a Golf course.
What to wear to a funeral not black: Alternatives available
In most funerals, it is better to wear clothes having darker colours and these colours may be chosen from black, grey or dark blue clothing.
What to Wear to a Funeral Occasion Which Will Be Appropriate?
Appropriate attire for men attending a funeral has always been black, dark blue or grey colour suit along with a collared shirt and tie. Though some little deviation from the traditional dress code is possible, it is very important to use subdued colours. There are comprehensive guidelines for dress codes both for men and for women which should be adhered to while attending a funeral.
A) Dress code tips for men:
It is better and appropriate to wear dark suits or long sleeved shirts with collar and the shirt should be tucked in.
Wear a belt with your trousers and wear proper shoes. Avoid wearing sneakers or athletic shoes.
It is not desirable to wear shorts or wear jeans at a funeral service through dark coloured jeans with shirts tucked in are acceptable.
B) Dress code tips for Women:
Conservative dress is preferred to be used in a solemn event like a funeral. Use of a dress that coves the shoulders and the knees properly will be a very decent dress to wear on such occasions.
Use of subtle colours will be the best way to show respect for the deceased person.
Selection of shoes should be based on comfort and not fashion as attending a funeral service may involve a lot of walking, sitting or standing.
Dress for showing respect and for mourning and do not think too much about how you will look.

If you want to find more information on funeral attire tips you may visit Comparethecoffin and get further details.