Comparethecoffin Exclusive – Flat Pack Coffin Available Very Soon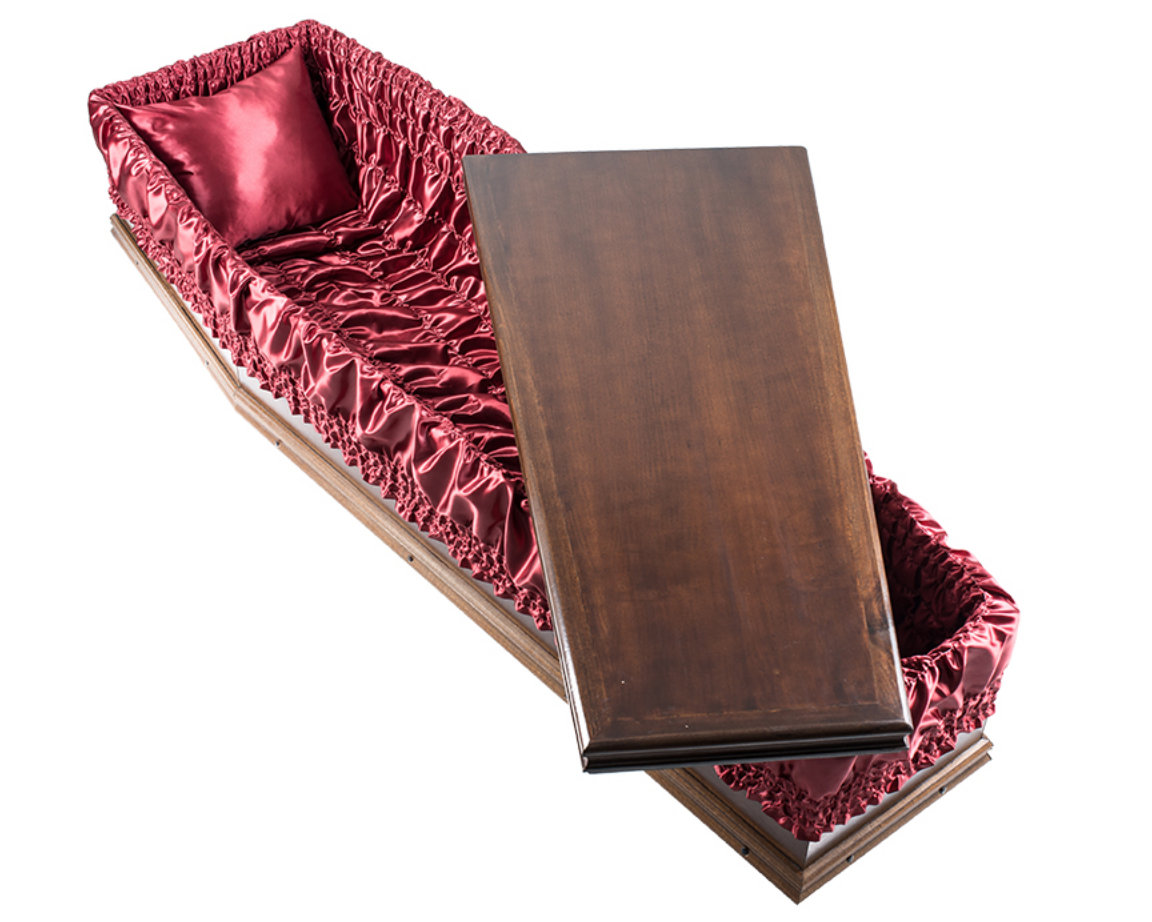 Comparethecoffin.com will be the only source of these revolutionary coffins available in the UK for our customers.
Currently available in 5 lining colour options: Crimson, Sky Blue, Aqua Marine, Italian Green and Silver with more to follow.
Eco Coffin is now available in a unique, elegant, walnut-coloured exterior finish. The lining is available in 5 different colours, equipped with head and feet pillows, and it is contained in a waterproof bag, to avoid every single chance of decay. Very easy to insert, within a few seconds Eco Coffin becomes a very elegant object of great impact.
The craftsmen, who make Eco Coffin, are among the best in Piedmont, and they are officially recognized with the brand a prestigious award for the best craftsmen of the Piedmont region, which is only awarded to those who stand out in their Art..
Eco Coffin is exclusively made of local hardwood, local natural glues and local water-based varnishes. The respect for the environment has always been one of our goals, in every aspect of our lives.
The materials, the labour, the facilities, the business and production partners: all located in Italy, all located in Piedmont.
Eco Coffin is the state of the art of planning and productivity optimisation: a long planning stage allows us to cut the costs and give life to a product that offers durability, elegance and reliability at a low price.
Eco Coffin – Silver lining without cover Eco Coffin – Blue lining without cover coperchio Eco Coffin – Baby Blue lining without cover coperchio Eco Coffin – Cardinal Red lining without cover coperchio Eco Coffin – Navy Green lining without cover.
100% poplar-covered spruce blockboard, we have tested it with a maximum of 230 Kg to guarantee enduring, durability and eco-friendliness.
Once it is packed, it takes up little space and can be easily placed in the boot of an economy car.
The small dimensions of the package reduce the space needed for the storage of many other units.
Reduced depths and perfect dovetail joints make Eco Coffin "weigh" only 27 Kg, package included.
The blockboard offers a great impact resistance and bears every load; the poplar covering adds an elegant and enduring finish.
We have kept the components to the minimum, to offer a quick, easy and solid assembly.